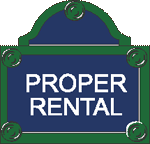 Policies
This merchandise is for rental purpose only and NOT FOR SALE.

By appointment only.
Rental is by the week (7 days) extra days are 15% off of the weekly price.
Second full week rental is 20% off of the weekly price.

Rental price is in addition to replacement value.

BRING FURNITURE PADS FOR PICK UP
Proper Rental reserve the right to refuse releasing the rented furniture if no furniture moving pads are brought by renters at time of pick up.
Please bring the rented merchandise back fully wrapped and boxed.
Renters assume full responsibility while in their, or their agents possession for loss or damage of all items rented from Proper Rental by reason of fire or from any cause whatsoever , and in the events of loss or damage hereby agree to pay Proper Rental such amount as it may determine for the repairs or replacement of any of these items , said amount not to exceed the value of articles as written on the contract and agreed upon.
Cash or check only at this time.
Full deposit required.
Please do not stain , paint ,spray , polish , or change the appearance of any props in any way. The way you rented it is the way you should return it .